RPNet maintains a plugin for JDownloader 2 Beta that allows users to automate link generation and download. Instead of having to manually copy/paste and generate links, you can use JD2 to automate the generation as well as the download process. To download JDownloader 2, please visit the link below:
http://jdownloader.org/download/offline#jdownloader-2-beta-webinstallers
Once you have downloaded and installed JD2, please make sure you have the following details with you:
- Your RPNet Username
- Your RPNet API Key (this is NOT your RPNet Password)
To obtain your RPNet API Key, please follow the tutorial below:
http://helpdesk.rpnet.biz/knowledgebase.php?article=25
Once you have the required details, follow the steps below.
1) Launch JD2 and click on the Settings tab or the Settings dropdown and then Settings again.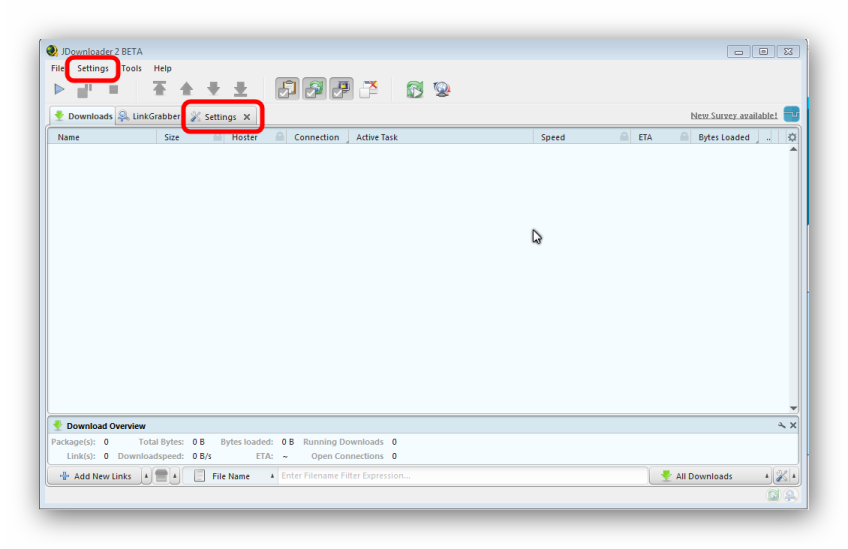 2) In the Settings window, click on Account Manager to the left, and then click on Add towards the bottom right.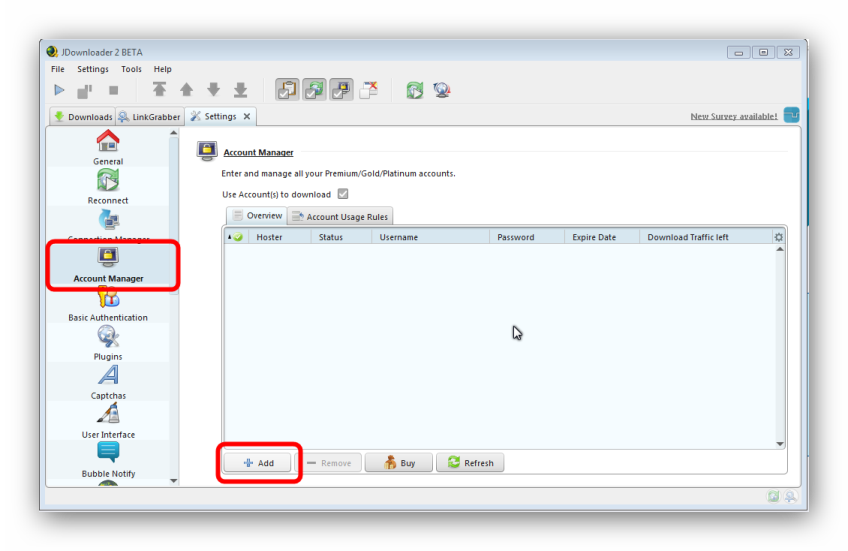 3) Select RPNet.Biz from the hosters list, and then enter your Username and your API Key in the fields as outlined in the image below. Make sure when you paste your API Key, press Ctrl+V to do so; for some reason, if you Right Click -> Paste, JD2 only records the first 7 characters.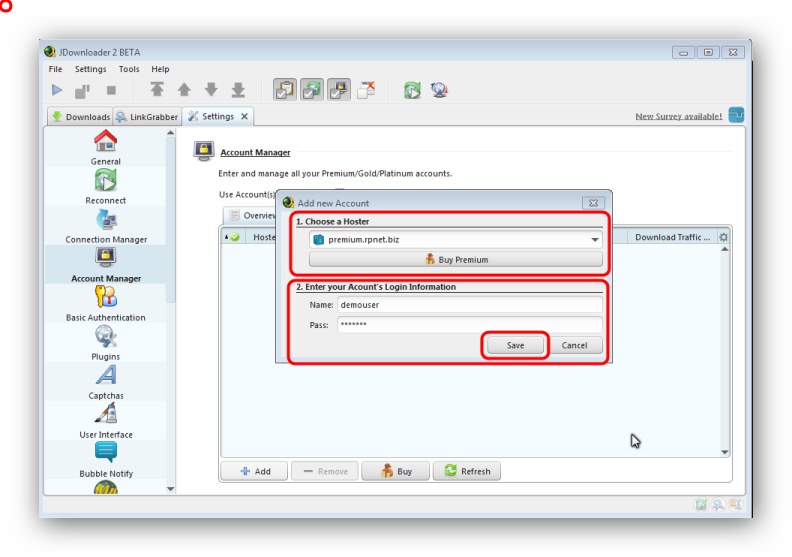 4) Once you've saved the details, you'll see JD2 attempting to login to the account to verify the details. On successful login/verification, it will display your expiry date.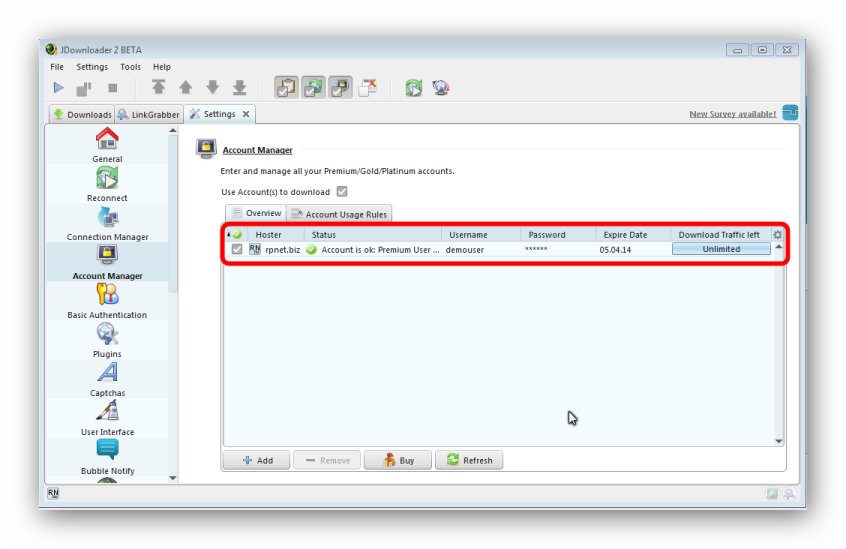 5) Copy your desired download links and they will automatically appear in the Link Grabber tab. JD2 will show an icon of the filehost the links are from. In the case of this example, it's Netload. Once you've copied all links, click on Start Downloads towards the bottom right.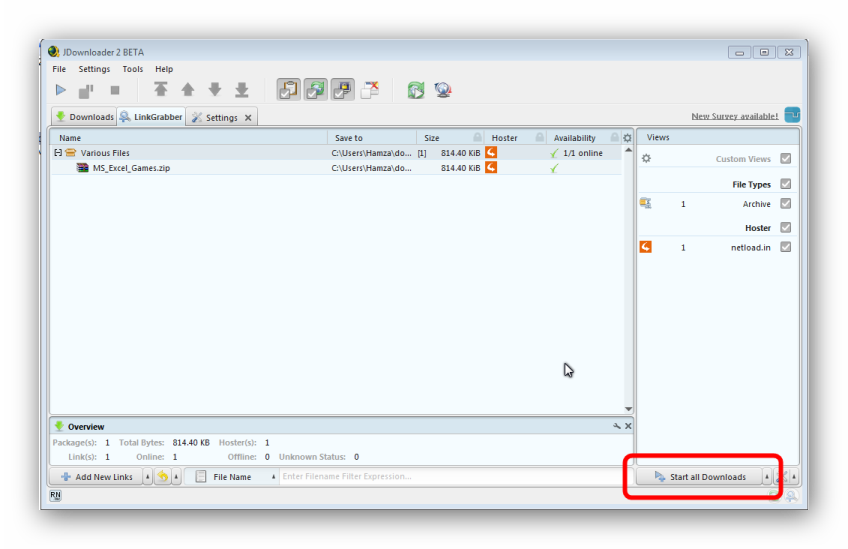 6) JD2 will now download your links. Since we've specified and RPNet.Biz account, JDownloader 2 will automatically attempt to generate the links first from RPNet. You'll see a brief indication of that (as shown in the screenshot below) before it starts downloading. If generation fails for some reason, JD2 will fall back to downloading from the original host as a free user.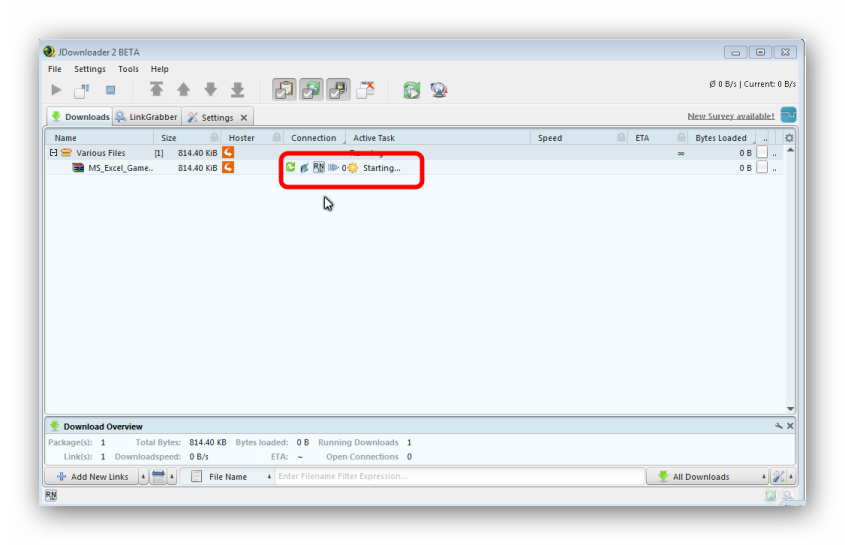 7) Once your downloads are completed successfully, JD2 will notify you.